Summertime is Patio Time! – Get the Perfect Blend of Form and Function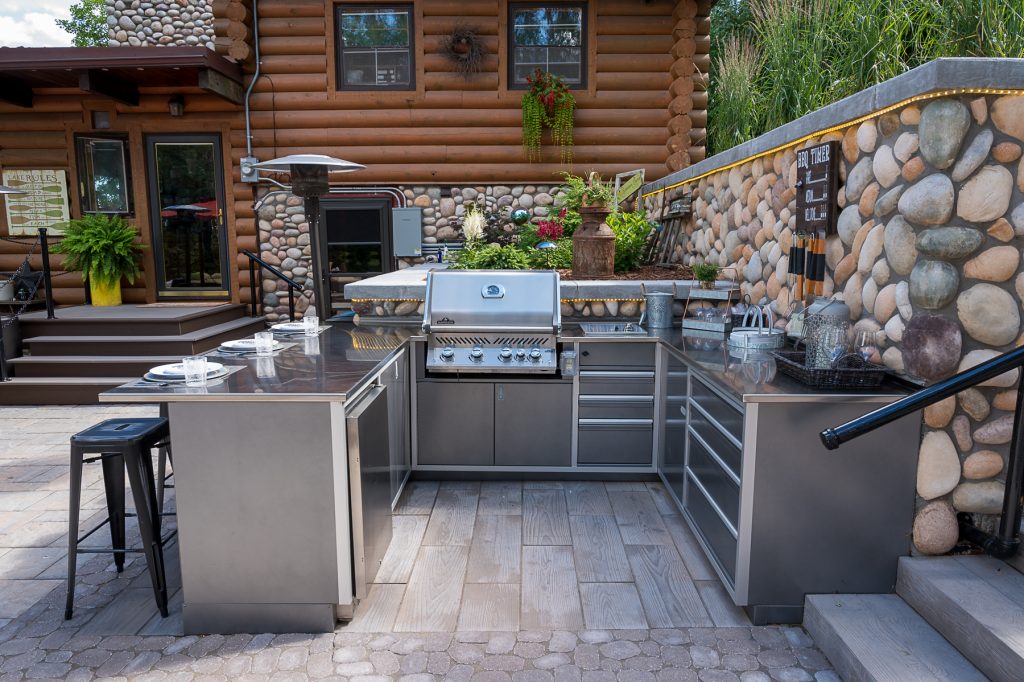 There's no better way to set your home apart from the countless comparable properties in your area than by installing a gorgeous patio. Patios are the perfect addition for outdoor entertaining. With an awning, natural shade from nearby trees, or another eye-catching covering, they also provide greater usable space for residents who want to spread out. More importantly, if you're looking for a feasible way to cut your landscaping bills without diminishing the value, viability, and overall aesthetic appeal of your home, patios are the perfect choice for you. Best of all, at Miller Creek, we have extensive experience in creating exceptional patios. 
Create a Space That Offers Year-Round Value
Unlike swimming pools and other outdoor features that require warm temperatures and sunshine, patios are functional all year long. Although you might be eager to install one now for the sake of enhanced summer fun, rest assured that this space will still be desirable when the temperatures plummet and the leaves start to fall. We can build a patio that's capable of accommodating an outside heater and air conditioner, or a fire pit. With a strategic design, your new patio can have elements that are suited to everyone in the home, and at all stages of the year.
Establish a Solid Foundation for Your Outdoor Kitchen or Other Backyard Elements
Have you been dreaming of kicking your backyard BBQs up a notch? Installing a functional outdoor kitchen will give you a comfortable, accommodating space for preparing full-course meals for your family and guests, and without heating your home up. Give your air conditioner a break and spend less on food delivery services this summer. Installing a patio will create a stable foundation for adding in features like a:
Refrigerator and wine cooler combo

Enclosed pantry

Meat smoker

Outdoor television or projector
If you want to give your loved ones more reasons to spend time outside or the ability to get more joy from their current living environment, make your next home improvement project an outdoor upgrade.
Choose From a Vast Range of High-Quality Materials
Our impressive history in designing, building, and maintaining cabins, patios, and countless other structures has helped us forge lasting relationships with many of the best suppliers in our industry. This network makes it possible for us to source top-quality materials at unbeatable prices. Moreover, we happily pass these savings on down to our customers. Not only does this make our patio installation services among some of the most competitively priced in all of Duluth, but it also means that we offer options like:
Pavers

Flagstone

Wood

Stone

Sand

Granite

Slate

Composite lumber

Bluestone / Crushed Stone
and more. With our help, you can arrive at a patio design that seamlessly blends in with your other outdoor features and decor. You can also create a patio that stands out as the central, focal point of your yard and sets the tone for everything else.
Don't Overlook These Surprising Benefits of Installing a Patio for Summer
With gas prices rising and constant uncertainty about what's to come next, the "Staycation" is again surging in popularity. Although summertime is a season for putting your days of binge-watching TV from the sofa behind you, you don't have to go much further than your own backyard to experience peace, relaxation, and the joys of bonding with family members and friends. Patios:
Extend your living space so you can invite more of your loved ones

Create a functional outdoor area for playing games, dining, and conversation

Work well for both daytime and nighttime activities
There are virtually no limits when having a patio put in. You can pair your patio with a wet bar, a pizza oven, and a robust outdoor lighting plan. This space can be built around a massive fire pit so that everyone can warm up after a dip in your pool or a quick soak in your hot tub. If you're working with a modest budget, your patio can be the very first of a string of exciting outside elements that you gradually build around.
There's also the fact that patios limit the amount of mowing, clipping, edging, and watering you have to do. With minimal maintenance and a guaranteed boost to the value of your home, a good patio can both make money and save it. Check out our portfolio today to learn more about our artistry and skill, or give us a call to set up a consultation appointment.