Six Eye-Catching Curb Appeal Landscaping Ideas for Your Home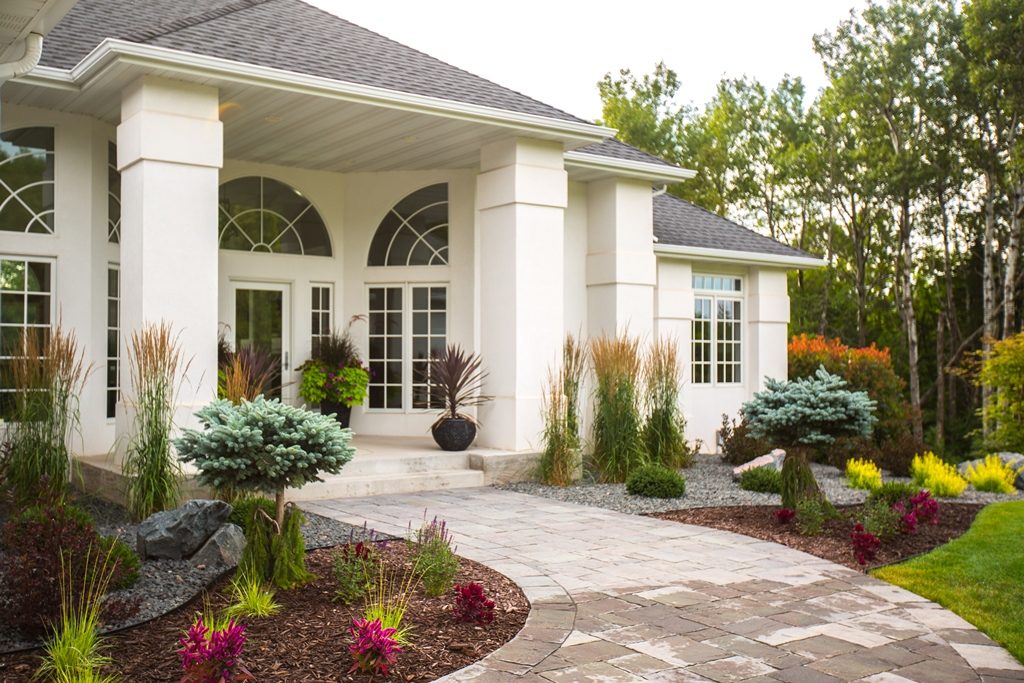 Curb appeal is at the heart of making your home beautiful from the outside in. If you want to feel inspired each time you come home – or inspire others to love the house as much as you do, then landscaping your curb appeal is a wonderful way to do this. Landscaping takes the exterior of your home and shapes it to naturally compliment both the architecture and the land that make up your cozy abode or elegant estate.
What are some of the best ideas for curb appeal landscaping in 2022? Here are a few of our favorite designs that are rising in the trends.  
Tiers of Terraced Planter Beds
Tiered planters are an eye-catching way to add shape and height to a flat front lawn or to master the slope of a steeper front step.  Terrace gardening has been practiced for centuries by ancient mountainside cultures, and the human eye simply loves the effect of both manicured levels and natural growing gardens.
Shape your entire front garden to create visually pleasing curb appeal with terraced planters and garden beds. Don't be shy about your plant variety, either. Terraced curb appeal often looks best with a mix of trees, shrubs, bursting tall flowers and low-set flower beds in composition.
Landscape Your Mailbox
Don't leave your mailbox lonely on the curb. It's the first thing your guests (and mail carrier) will see as they approach your home. Make your mailbox beautiful with bursting flowers or an elegant masonry benchwork design. Build up your mailbox into something special or make it the centerpiece of a little curbside scenery. 
An Enchanting(ly Safe) Garden Path
A lantern-lined and manicured path from the curb (or driveway) to the front door can create a truly enchanting view for your curb appeal. Replace a plain sidewalk, a challenging climb, or no walk at all by landscaping a new garden path. If your yard is hilly or sloped, use this landscaping redesign as a way to cleverly add handrails and pathway lighting in the guise of purely decorative design that your guests will appreciate with each visit.
Under the Shelter of a Guardian Tree
Is your front yard overseen by an ancient and sheltering tree? This is quite common in older neighborhoods where the trees may have seen more years than the residents of each home. Embrace the beauty of your guardian tree by shaping your curb appeal landscaping around it. Have a ring bench installed around the trunk and drape lights from its branches.  Build concentric flower beds or frame the composition of your curb appeal to accent the quiet yet powerful presence of the ancient tree in your front garden.
A Shady Place to Play
Some family homes find the best curb appeal in a front-garden play area. A swing, a soccer goal, and a few wicker chairs for adult relaxation make the home not only a more enjoyable place to live, but also a more welcoming place to admire from the curb. Landscape your front garden to create a shady and sheltered play area that is just visible as guests approach the front walk. 
Don't forget a few elegant hinge-topped benches on the front porch for storage of outdoor toys as the final touch.
Beautiful Paver Driveway or Colorful Concrete
Want to reshape your entire curb appeal? You can even redesign your driveway. Concrete and pavers are all part of professional landscaping. You can replace that cracked concrete drive with beautiful new decorative concrete in sweeping shapes and handpicked colors, or upgrade to a luxurious paver driveway rich in texture and color as part of your curb appeal composition and the joy of arriving home each day.
Are you ready to transform your curb appeal with expert landscaping services? For more curb appeal landscaping ideas or to consult on your vision for your home's curb appeal design, contact us today.