BLOG | Miller Creek Lawn & Landscape Celebrates 35 years
Last year, Miller Creek Lawn & Landscape officially reached a major milestone worth celebrating – 35 years of transforming outdoor spaces into picturesque havens of tranquility and beauty so our clients can "Live in the Yard They Love". Since 1987, our family-owned and operated business has provided exceptional landscaping services to our valued clients. As we mark this remarkable journey, let's take a stroll down memory lane and explore the incredible achievements and contributions that have made Miller Creek a household name in the industry.
From Humble Beginnings to Towering Heights: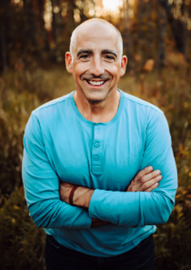 This journey beings with a little kid that loved being outside. Troy Grohsman, founder, started Neighborhood Yard Care in 1987 as a teenager. He started as a small operation, armed with determination, a handful of tools, and a genuine passion for lawn care and landscaping. What started as a one-person endeavor has now grown into a robust team of skilled professionals, each sharing the same enthusiasm and commitment. In 2009, we outgrew our space and name. So, we moved to our second location next to the Miller Creek tributary and rebranded as Miller Creek Lawn & Landscape. We are now in our brand-new building located at 5350 Miller Trunk Hwy, Hermantown.
Troy recalls, "I just loved working outside. My passion evolved overtime along with my company."
A Legacy of Excellence:
Over the past 35 years, Miller Creek Lawn & Landscape has created a reputation for delivering top-notch services that exceed client expectations. From design to build and maintenance, our portfolio is a testament to our creativity, innovation, and meticulous attention to detail.
Miller Creek's dedication to quality and customer satisfaction has earned us numerous accolades and awards within the landscaping industry. We have been awarded the "Best of Houzz" Design award for 2015, 2016 and 2017, and winner of the "Best of Houzz" Service Award in 2017, 2018, 2019, 2020, 2021 and 2023, you can rest assured that Miller Creek delivers exceptional service and high-quality workmanship. Our ability to blend artistic vision with technical expertise has set us apart as trendsetters and industry leaders.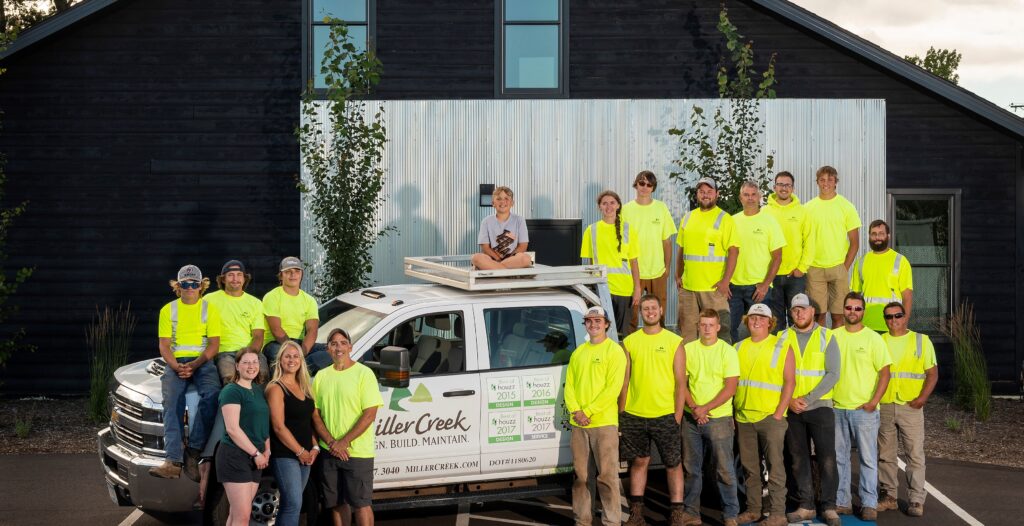 Culture of Family
Beyond our remarkable landscaping work, Miller Creek has an amazing company culture with family values at the center. Most of our seasonal labor is college students striving to finish their degrees in engineering. Not only do we offer real-world experience to students with a career area of interest in engineering and other like fields, but Miller Creek also encourages our employees to get certified and licensed in their specialty. For instance, one of our employees is a certified Interlocking Concrete Pavement Installer.
"This job is the right fit for me because I can work hard in the summer and focus on school during the off-season."
For our full-time crew, some members have worked for the company since the beginning. With a strong bond across the core team our teams can efficiently get work done. Each member of our core team brings different strengths to the team, allowing us to face challenges or new tasks with a dynamic and diverse approach.
"I like working for Miller Creek because whether you've been landscape building for 3 years or 3 decades, there's always something to learn from other employees here because of the shared passion for what we do and how we can do it better."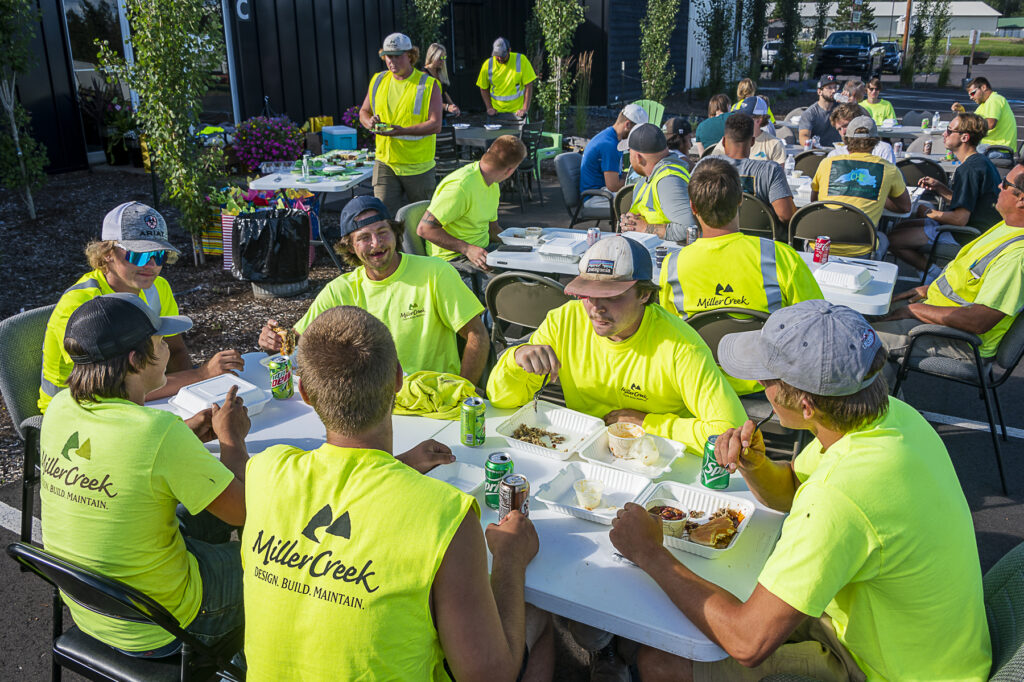 Miller Creek puts our employees first and understands the importance of recognition of hard work. Every year we throw a mid-summer staff party to celebrate the hard work of our crew. Last year's event was extra special to celebrate 35 years of business. Employees gathered after a long day of work to celebrate with yummy BBQ from a local food truck and cake. We even had a good laugh when Troy was given a gift of a photo of him when he first started Neighborhood Yard Care.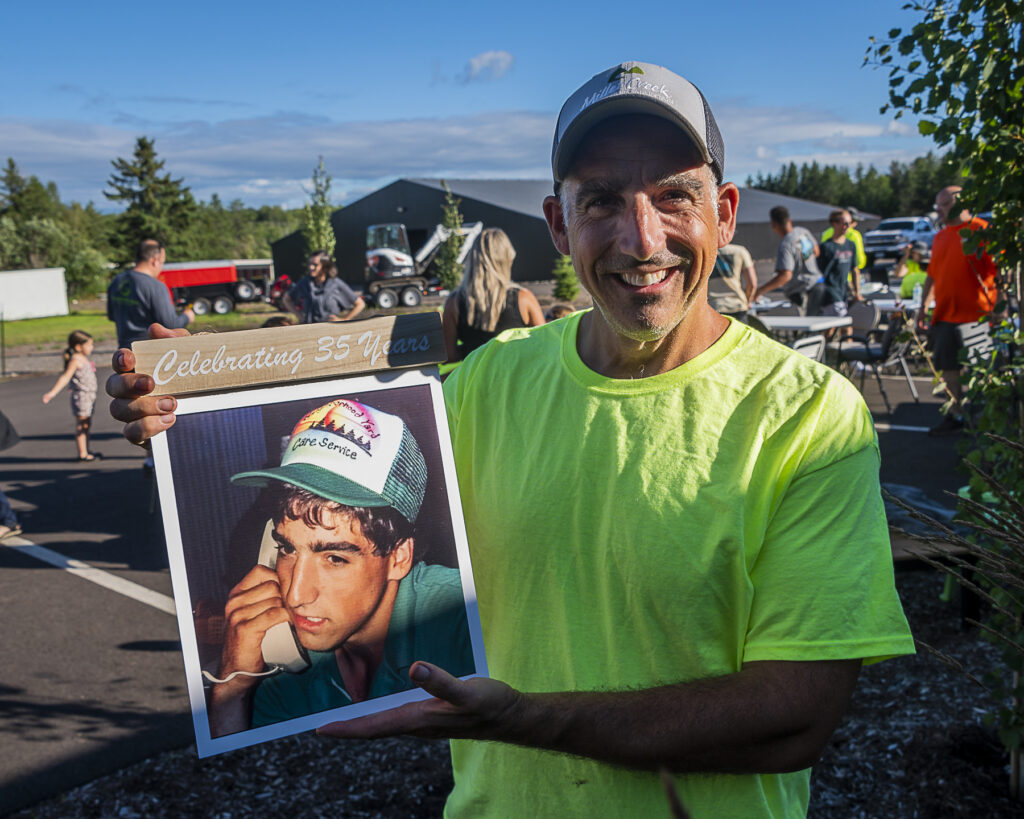 Looking Ahead:
As Miller Creek Lawn & Landscape celebrates 35 years of success, the future holds even more promise and excitement. With a renewed commitment to innovation, culture, and client satisfaction, we are ready to continue shaping outdoor spaces for generations to come.
In conclusion, Miller Creek's journey from a modest beginning to a reputable industry leader is a testament to the power of passion, dedication, and a strong vision. As we embark on the next chapter of our story, one thing remains certain: Miller Creek will continue to inspire, transform, and create outdoor oasis's so you can "Live in the Yard You Love."
Congratulations to Miller Creek Lawn & Landscape on this remarkable milestone! Here's to 35 years of excellence, and to many more years of flourishing growth and boundless creativity.
If you're looking to hire a team with 35+ years of experience with residential, cabins, lake homes, and commercial property landscape design and build, look no further. Miller Creek Lawn & Landscape can offer you a style that's all your own – unique and individual. Call or email to schedule a consult today, (218)727-3040 or info@millercreek.com.