5 Fun & Festive Landscaping Ideas for the Holidays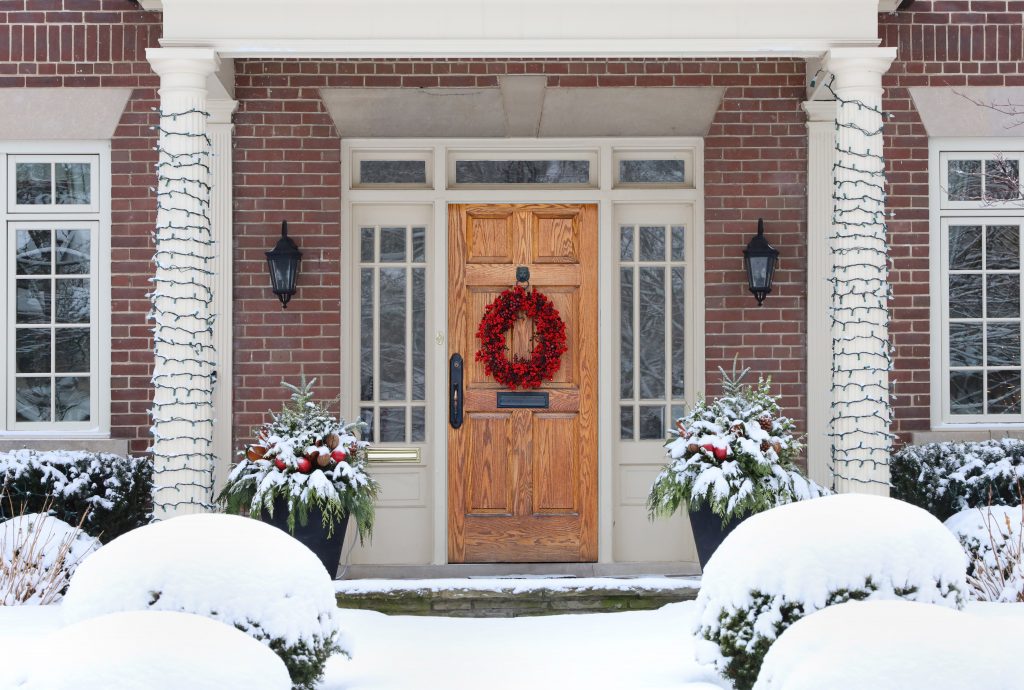 Just because it's snowy out doesn't mean you can't still landscape. The frozen tundras that come with northern weather make for a beautiful landscape full of potential. With the holiday season finally here, it's time to get festive with some fun holiday-inspired landscaping ideas for your property! Many of us look forward to creating a winter wonderland to brighten up the dark days that come with a long winter. However, creating that masterpiece can feel daunting, especially with so many things out there that you can do. 
We're here to help you focus on some of those popular ideas and we hope you find the inspiration for your own home!
5 landscaping ideas for the holidays
If you're looking for ways to spice up your yard for the holiday season, check out some of these ideas:
1. Plant winter-friendly plants
Just because we're located in a harsher climate zone does not mean there aren't plant varieties that will thrive throughout winter. Some outdoor plants that will make a joyful addition to your outdoor space include:
Winterberries

Red Twig Dogwood

Boxwood

Evergreen Trees
To learn more about these beautiful wintry plants, visit this website!
2. Hang garland 
Garland is a super simple and elegant way to bring out the holiday spirit throughout your property whether you hang it around windows and doors, along railings and porches, fences, or all of the above! There are a lot of ways to spruce it up, too! You can always try adding red winter berries, pinecones, ribbons and bows, and (of course) twinkly lights.
Check out some of these inspiring outdoor garland ideas!
3. Create a beautiful light display
The obvious way to create a festive, eye-capturing landscape is to use lights. There are so many different ways to arrange lights that create a visually-appealing display that helps you and your neighbors get into the holiday spirit! Some of the most popular and unique places to hang and arrange lights include roofs, gutters, doorways, windows, walkways, trees, tree trunks, shrubs, at the base of plants, and fountains! 
Another way that you can use lights is with fun figurines like Santa Claus, reindeer, ornaments, snowmen, candy canes, and more!
4. Take advantage of your outdoor pots 
There are so many things you can do with your outdoor pots to create a beautiful festive feeling in your outdoor living space – and it doesn't have to cost you a fortune either! A lot of the ways people are utilizing their outdoor pots to create unique outdoor holiday decorations are with DIY projects. Some of these projects include:
Filling pots with

winter foliage

cuttings

Decorating winter foliage with ribbons, lights, pinecones, and ornaments

Placing small pine trees in them

Creating a

present stack

 
And more. There are so many ways to use your outdoor pots to create a beautiful holiday look!
5. Hang festive wreaths of all kinds
Traditionally, wreaths are a simple circle of garland with a cute red bow on the top that you hung on your door. While you still may like that traditional look, wreaths have come a long way since then. People decorate wreaths with ornaments, lights, pinecones, winterberries, multicolored ribbons, little presents, dried citrus, and more. Additionally, they might even make their wreaths out of something else other than garland entirely! You can buy or DIY wreaths made completely out of ornaments, twinkly lights, winter foliage, ribbons, or whatever else you can find.
Here are some awesome DIY wreaths that you can try out this holiday season to decorate your front door!
In conclusion
There are an endless amount of ways that you can landscape your property to give it a breathtaking holiday appeal. There's really no way that you can go wrong! If you're interested in discussing winter landscaping ideas with Miller Creek, contact us today!